Ham Radio, Computer, and Hobby Electronics Flea Market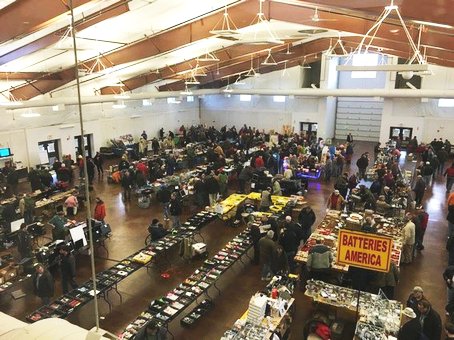 The 2018 WCRA Hamfest is being held at the Kane County Fairgrounds Expo Center (N 41.9056, W 88.34232) in St. Charles, Illinois. Come enjoy the 51st annual observance of this great event in warm, well-lit, open, indoor spaces. There is plenty of free parking right next to the building along with handicap access. Talk-In will be on the WCRA 145.31/-(107.2) repeater.
January 21, 2018, 8AM to 1PM
Kane County Fairgrounds Expo Center
525 S. Randall Road, St Charles, IL
Features
Ham Radio, Computer, Radio Control, and Hobby Electronics Vendors
Educational Forums
Amateur Radio Exams 8am-11:30am
General Admission Raffle. In addition a Yaesu FT-736R will be raffled ($10/Ticket. Only 200 tickets will be sold.)
Food Vendor
Forums for the 2018 Hamfest
09:00 - West Mountain Radio

10:00 - Fritz Bock, Emergency Coordinator for Illinois, of the ARRL, discussing current topics of disaster communications.

11:00 - Ron Morgan, Section Manager for Illinois, discussing the State of the ARRL and how it effects Illinois hams.
General Admission
Adult admission costs $8 in advance, and includes four raffle tickets.
Admission is $10 at the door, which includes one raffle ticket.
All Scouts under 18 years old and in official Scout uniforms are admitted for free.
Children age 12 and under, accompanied by a paying adult, are admitted for free.
Vendor Info
Tables
Eight foot tables cost $30 ($25 before 11/1, $35 after 1/1). Each vendor is provided with one chair. ($2 each additional chair)
You may request tables using this form. A letter to vendors is available here.
Services
Electrical service is $15 per drop.
The 2018 Hamfest flyer is available here